Tuesday Nov 30, 2021
TumblingSaber Podcast - The Dark Horse Returns!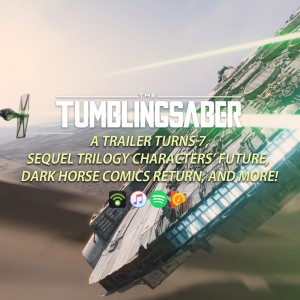 This week, we're extra as the legendary Rik joins us to discuss some recent book news, including the return of Dark Horse Comics to Star Wars! We also unpack some of the stuff we've been reading recently, and look at some of Kathleen Kennedy's comments to Empire Magazine about the future of the sequel trilogy's characters, the fate of Rangers of the New Republic, and a whole lot more!
We're glad to be in your ears and would love to hear from you! Send an email with your thoughts and questions to tumblingsaber@gmail.com, or find us in our closed TumblingSaber Facebook group. We'd love to see you there. If Twitter is your thing, you can find me, Marie, and Nathan there as well!